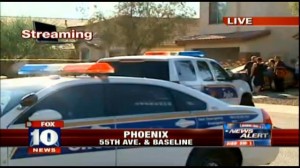 PHOENIX –
One person was shot following a home invasion at 55th Avenue and Baseline Road.
Police say a 14-year-old boy shot a suspect who was trying to break into his house.
The boy was with his siblings when he heard rattling at the door and people attempting to break in. He went upstairs to retrieve a handgun and as he was coming down the stairs, the door broke open.
The boy became face to face with a burglar, who pointed a gun at him.
The 14-year-old fired at the suspect, critically wounding him. The suspect was taken to an area hospital and released a week later.
Police are also looking for a woman who may have been involved and had come to the door prior to the invasion.
The suspect, Richard Fiore, was charged with aggravated assault and burglary.
Source: http://www.myfoxphoenix.com/story/18860494/14-year-old-shoots-injures-home-intruder