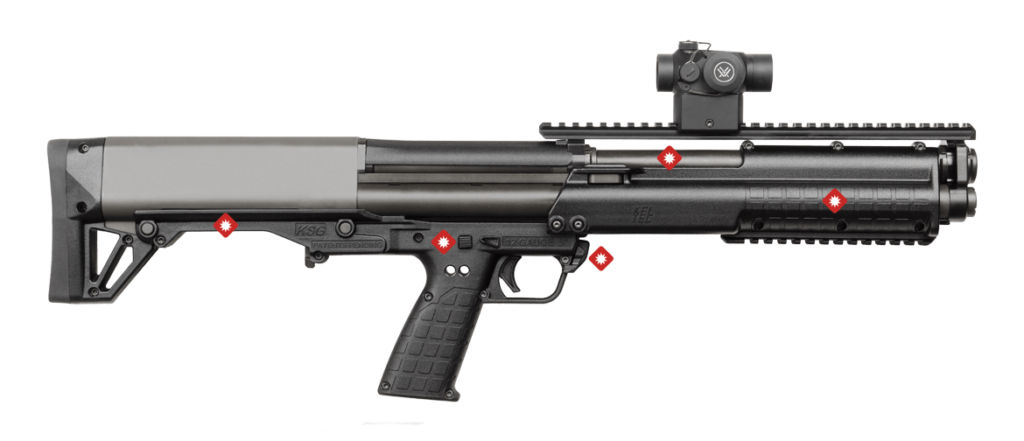 The KSG™ is no ordinary tactical shotgun. Its dual tube magazines hold a dozen 3 inch, 12 gauge shells (plus one in the chamber), with the flexibility of switching between various projectiles. A patented downward ejection system makes it truly ambidextrous, while its 26.1 inch overall length, 18.5 inch cylinder bore barrel and 6.9lbs of weight make it is as compact as legally possible.
Ejection port – Downward ejection port sends empty shells away from your line of sight, resulting in a truly ambidextrous bullpup.
Safety – Easily accessible cross-bolt style safety offers convenience and positive safety retention.
Pump Release – The ambidextrous pump release, conveniently located in front of the trigger guard for quick and easy access.
Barrel – 18.5" smooth bore barrel with a 3" chamber and 15/16" thread pattern for muzzle attachments.
Forend – Smooth simple and reliable pump with integrated Picatinny rail.
Caliber
12ga 3"
Weight Unloaded
6.9lbs
3.1kg
Magazine Capacity
6+6 (3" shells)
Overall Length
26.1"
663mm
Barrel Length
18.5"
470mm
Trigger Pull
5lbs
22N
COMPANY PROFILE
Kel-Tec CNC Industries. Inc. was founded 1991 in Cocoa, Florida. Initially a CNC machine shop making firearms components for Grendel Inc., we began manufacturing firearms in 1995 with the P-11™, the first 9mm polymer pistol for concealed carry. Specializing in innovative rifle designs and handguns for concealed carry by law enforcement personnel and qualified citizens, Kel-Tec is now one of the top five handgun makers in the USA, and one of the largest in the world.
Kel-Tec CNC Industries Inc. is a privately held corporation under the laws of Florida and of the United States. We strongly support the individual right to keep and bear arms as defined in the Second Amendment of the US Constitution. We also cover all NRA membership dues for active employees in addition to being a member of the NSSF and HSSHF to support responsible and safe gun ownership.
While we are, at the end of the day, an innovative manufacturer of high-performance products, we strive to end each day the way we begin it: as a company of people that puts our people – employees and customers – first.