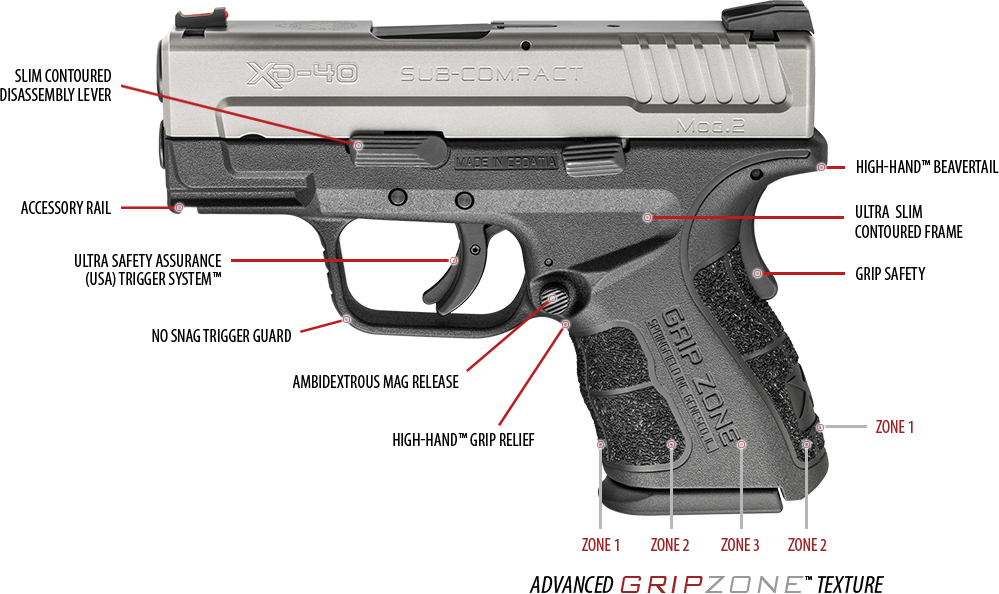 When picking up the Mod.2®, shooters will find that critical aspects of the design have been fine-tuned. Mod.2® ergonomics are a next-level experience that you have to feel to believe and understand. The entire interface between the shooter and the gun has been updated, while retaining the Point-and-Shoot characteristics that made it famous. Key features have been tweaked and enhanced to further enable effortless shooting. And you'll find that the overall package is now more concealable as well.
FIBER OPTIC FRONT SIGHT
Achieve easier and faster target acquisition with the fiber optic front sight.
LOW PROFILE EXTENDED REAR SIGHT
The rear sight on the Mod.2® is low profile, snag free, and holster friendly.
POSI-WEDGE SERRATIONS
A more pronounced rear serration makes racking the slide effortless.
SLIMMER SLIDE
The Mod.2® has a slimmer slide for concealability and more comfortable carry.
HIGH-HAND™ BEAVERTAIL
Higher hand positioning toward the barrel's bore axis reduces felt recoil when firing.
HIGH-HAND™ GRIP RELIEF
Works in unison with the High-Hand™ Beavertail to reduce felt recoil.
SLIM CONTOURED FRAME
The Mod.2® frame has been re-contoured, a slimmer frame adds up to a more natural grip.
SLIM CONTOURED DISASSEMBLY LEVER
A slim disassembly lever makes for a streamlined, holster friendly design.
CALIBER:
9x19MM
.40SW
.45ACP
CAPACITY:
13+1 Rds
16+1 Rds

w/X-Tension™

9+1 Rds
12+1 Rds

w/X-Tension™

9+1 Rds
13+1 Rds

w/X-Tension™

BARREL
3" Hammer Forged
3.3" Hammer Forged
LENGTH
6.25"
6.5"
GRIP WIDTH:
1.19"
WEIGHT:
26oz W/Empty Mag
27oz w/X-Tension™
HEIGHT
4.75"
5.5" w/X-Tension™
SLIDE
Forged Steel
FRAME
Polymer
FINISH
Melonite®
MAGAZINES
1 Stainless Steel Flush &
1 Full-Sized w/X-Tension™